137 Reserve Club
The 137 Reserve Club is an invite-only group of collectors with first access to work from the world's most iconic photographers. Sign Up to access the full inventory from this collection.
Eveningside by Gregory Crewdson is a series of 20 images, released as both print editions as well as unique 1/1 NFTs with supporting images.

In Eveningside (2021-2022), Crewdson explores moments of contemplation within the confines of quotidien life, in places of employment, and in moments just outside of those work structures. The figures populating the pictures are sparse, and are often seen through storefront windows, in mirror reflections, or positioned underneath the mundane proscenium found in the midst of their everyday routines: railroad bridges, doorways, porches, the overhanging roofline of a bank teller drive-thru, a dairy bar, a corner market, or a hardware store
Bringing his vantage point closer to the figures, using a heightened range of light and darkness, special effects such as fog, rain, smoke, and haze, and for the first time using his now ubiquitous full production and lighting team in a monochromatic palette, the result is a rich gothic atmosphere, evocative of film noir and classic cinema, but with the capabilities and clarity of the most current technology available in digital photography.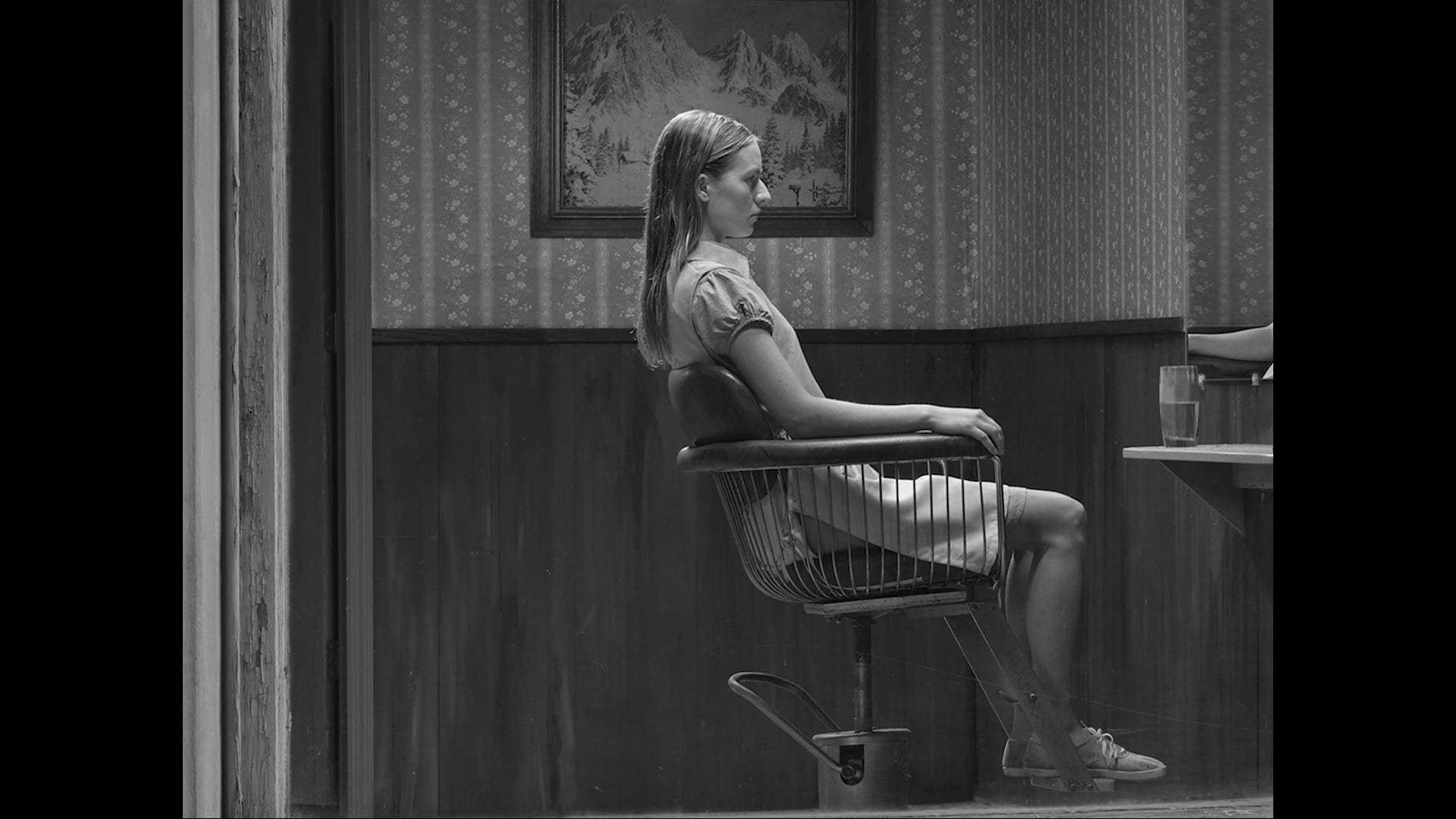 Watch: Madeline's Beauty Salon
01
Gregory Crewdson
8 to 10 Cleaning Services,
2022
02
Gregory Crewdson
Jim's House of Shoes,
2022
03
Gregory Crewdson
The Lounge 0795,
2022
04
Gregory Crewdson
The Bank Depository,
2022
05
Gregory Crewdson
The Ice Machine,
2022
06
Gregory Crewdson
Under The Fourth St Bridge,
2022
07
Gregory Crewdson
A1 Auto Sales,
2022
08
Gregory Crewdson
Pleasure St,
2022
9
Gregory Crewdson
The Laundromat,
2022
10
Gregory Crewdson
T&A Tools,
2022
11
Gregory Crewdson
Eveningside Tatoo,
2022
12
Gregory Crewdson
The Undertaker,
2022
13
Gregory Crewdson
The Storefront Window,
2022
14
Gregory Crewdson
The Family Doctor,
2022
15
Gregory Crewdson
The Corner Market,
2022
16
Gregory Crewdson
The Thrift Store,
2022
17
Gregory Crewdson
The Burial Vault,
2022
18
Gregory Crewdson
Morningside Home for Women,
2022
19
Gregory Crewdson
The Departure,
2022
20
Gregory Crewdson
Madeline's Beauty Salon,
2022
Loading
01
8 to 10 Cleaning Services
06
Under The Fourth St Bridge
18
Morningside Home for Women
20
Madeline's Beauty Salon
Loading
Artist
Gregory Crewdson
1962 (USA)
Website_

Instagram_

Twittter_
Gregory Crewdson is an artist based in New York.
He is a graduate of SUNY Purchase and the Yale University School of Art, where he is now director of graduate studies in photography. In a career spanning more than three decades, he has produced a succession of widely acclaimed bodies of work, from Natural Wonder (1992–97) to Cathedral of the Pines (2013–14). Beneath the Roses (2003–08), a series of pictures that took nearly ten years to complete—and which employed a crew of more than one hundred people—was the subject of the 2012 feature documentary Gregory Crewdson: Brief Encounters, by Ben Shapiro.
Gregory Crewdson's photographs have entered the American visual lexicon, taking their place alongside the paintings of Edward Hopper and the films of Alfred Hitchcock and David Lynch as indelible evocations of a silent psychological interzone between the everyday and the uncanny. Often working with a large team, Crewdson typically plans each image with meticulous attention to detail, orchestrating light, color, and production design to conjure dreamlike scenes infused with mystery and suspense. While the small-town settings of many of Crewdson's images are broadly familiar, he is careful to avoid signifiers of identifiable sites and moments, establishing a world outside time.